Go Karts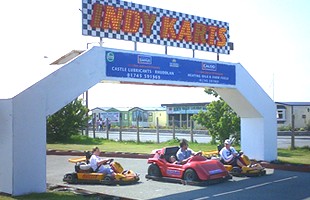 Best on the Coast
Tir Prince Go Karts – Take Pole Position!
Dont just take our word for it – our Karts are fast and the the track is testing, experience the thrills of racing close to the ground.
Dont worry, if its your first time – we can accomodate all levels of driving skills – and you wont get booked for speeding.
Great driving fun for all ages!
Opening Times
Our Go Karts are open every day Easter through to October. Opening time are weather dependent for safety reasons.  Special Event? Why not hire the complete Go-Kart track for your special family group or business event – we can help with your group event, and dont forgot – we have the best track on the coast! – lets get racing! Call Charles Holden on 07966244265