Vincent Delaney Memorial Event 14th-15th August 2021.
We at Tir Prince Raceway are delighted and honoured to have been asked to host the 2021 running of The Vincent Delaney Memorial Harness Racing Festival. The Vincent Delaney Memorial or "VDM" as it is commonly referred to, is the brainchild of Irish brothers and business partners Derek and James Delaney of County Offaly Ireland, who decided that they wanted to run the biggest and best race for 2 year Old standardbred horses in memory of their late brother Vincent who died suddenly in June 2011 at the age of 27. The three brothers had shared a lifelong love of ponies and horses which culminated in harness racing becoming a serious hobby, pastime and borderline obsession for them in adulthood whereby they worked side-by-side breeding and training standardbred horses for racing under the brand name of "The Oakwood Stud".
Vincent Delaney.
Out of this heartbreak the VDM was born as Derek and James organised the first running of the race at Portmarnock Raceway in August 2012, from the outset they strived to make the weekend different by inviting international drivers to compete and securing the services of world renowned commentator "Roger Huston" to do the race calling. Over the following years momentum built and built with more and more visitors from the USA , Canada, Australia and New Zealand travelling to attend this Irish bonanza of harness racing. Its trademark has become top class harness racing and a tremendously good time being had by all before during and after racing!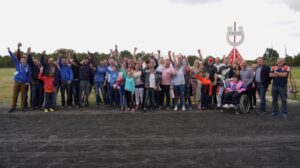 So the question is why has it been moved to Wales?
Uncertainty regarding the future of the Portmarnock Track in Dublin, Ireland resulted in the Delaney brothers approaching Tir Prince supremo's Eric Witherspoon, Racing Manager, and Adam Williams, Track Owner, to see whether it was felt that the race could be moved to Wales. After lengthy discussions it was mutually agreed that if the race was to be moved from Ireland then it should be moved to Tir Prince Raceway and a deal was secured for the meeting to be held on its traditional weekend of Saturday 14th and Sunday 15th August.
The event has been in the planning stage ever since and we are now 4 weeks away from North Wales hosting the biggest international festival of harness racing that the United Kingdom has ever seen. The economic benefit to the area is huge with over 300 hotel rooms and self contained accommodation being booked from Abergele to Llandudno especially for the VDM Festival.
Eric Witherspoon, Derek Delaney, Adam Williams.
Entertainment?
Tir Prince Raceway in conjunction with the VDM Committee want the event to be very special and there will be live music at the event for both days with local artists Bianca Taylor and Saving Violet playing sets over the weekend. Local talent group 'Theatre In The Community' will also be providing local young talent to sing both solo and group performances at the track for the crowds as well. Both Saturday and Sunday will also feature Delbadarn Film Horses stunt displays on the track.
There will also be face painting for children and for adults there will be an indoor and outdoor licensed bar and licensed bookmakers on site. The restaurant will also be open selling hot and cold food.
Sunday, 15th August will be designated Ladies Day, with over £3000 worth of prizes and runner-up prizes being awarded for:
The Best Dressed Lady
The Best Dressed Man
The Best Dressed Couple
The Best Hat
The prizes this year are fantastic, you could be in the chance of winning: a 2 night hotel & spa break worth over £500 (including 1 spa treatment, 1 afternoon tea and 1 evening meal for two), a €500 voucher for Cari's Closet, or, a £100 restaurant voucher for the Kinmel Arms. Other prizes include flower arrangements, Jameson whisky gift sets, Newbridge Ireland giftsets and sashes to wear on the day to take home with you.
          Previous Winners
A weekend of excitement for the whole family, there will be a variety of entertainment to suit everybody!
Admission cost is £10 on the gate, whilst under 16's are free making it an affordable family day out. We are offering much more than just a weekend of harness racing and hope to see both locals and holidaymakers alike support us by coming along to enjoy an excellent weekend with us.
To find out more about the Vincent Delaney Memorial and it's history, please visit  www.vincentdelaneymemorial.com 
VIEW THE RACE RESULTS HERE
Any queries please call Tir Prince on 01745 345123.